NoMa Parks Foundation Announces Second Underpass Art Park Finalist on L Street
June 23, 2015
WASHINGTON, DC, June 23, 2015 — The NoMa Parks Foundation has selected the design concept for L Street, NE, the second underpass to be transformed with light and art in the NoMa neighborhood. Future Cities Lab will create an undulating light structure, 'Lightweave,' that will appear to float from the ceiling of the underpass. The installation will "peek out" onto L Street outside the underpass and beckon visitors to explore and linger in the beautifully transformed space. M.C. Dean will serve as contractor, and construction is expected to begin in late 2015.
A community meeting to introduce the design team and contractor, and to garner additional feedback on the concept and design, will be held July 13 (details below).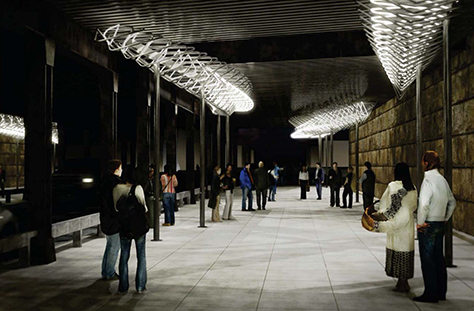 Charles (Sandy) Wilkes, Chairman of the NoMa Parks Foundation, noted, "The jury made its decision to select 'Lightweave' based on excellence and innovation of its design but also its remarkable complementarity with the L Street Plaza, planned for the west side of the underpass. It's a great choice." 
The announcement was made at a well-attended community meeting about NoMa parks last week. The Foundation started the underpass project in April 2014, with an international design competition that received 248 responses. The goal of the project is to fill NoMa's four rail underpasses, at L, M, K Streets and Florida Ave, NE, with light and art, making them enjoyable east-west connections for pedestrians, cyclists and drivers. 
Future Cities Lab, based in San Francisco, is a prominent design studio, workshop, and architectural think tank that explores the intersection of art and design with advanced fabrication techniques, robotics, responsive building systems and public space. They recently opened the interactive installations 'Murmur Wall' and 'Lightswarm' at the Yerba Buena Center for the Arts in San Francisco. 'Lightweave' will translate ambient sounds from passing trains and other sounds of the neighborhood into dynamic auroras of patterned light. 'Lightweave' will animate the underpass with variable intensities of illumination while creating a meditative and interactive experience. Similar to dropping a single pebble into an undisturbed pond, waves of light will slowly oscillate through the space. Multiple sounds will create dynamic visual overlaps. The quality and placement of lighting elements will dramatically improve the experience of the underpass for pedestrians and bicyclists, but will not interfere with or distract vehicular traffic. 
M.C. Dean, which will serve as construction manager on both the L Street and M Street underpass projects, is the nation's premier electrical design-build and systems integration firm for complex, mission-critical installations. 
Community members are invited to meet the designers and construction team, learn more about the conceptual design and share their thoughts at a community meeting on Monday, July 13, from 6:30 to 8 PM in the Lobby Project, 1200 First Street, NE. This event is free and open to the public; RSVP here. 
A prototype of the M Street installation, "Rain," by NIO architects and Thurlow Small Architecture, will be installed this summer for community input. Stay tuned for updates on all the NoMa Parks Foundation efforts at www.NoMaParks.org. 
About the Underpass Competition
The NoMa Parks Foundation launched an international design competition in April 2014 to find artists to reimagine the four underpasses at Florida Avenue, L, M and K Streets, NE, and fill them with light and art. A distinguished jury narrowed 248 submissions from around the world into 10 finalist teams.  A community outreach process gathered important feedback, including more than 370 survey responses from community meetings and an online survey. The M Street Underpass Art Park will be the first project to start construction, followed by the L Street underpass.   
The NoMa Underpass Art Parks are funded by a grant from the District of Columbia government to create parks and improve public spaces in NoMa. The NoMa Parks Foundation has been working in conjunction with the D.C. Department of General Services, the D.C. Department of Parks and Recreation, the District Department of the Environment, the District Department of Transportation, the Commission on Arts and Humanities, Amtrak, and WMATA on the NoMa Underpass Art Parks initiative. Construction on the M Street underpass is expected to start in fall 2015. Please look for future announcements in connection with the K Street and Florida Avenue underpasses, which were also included in the 2014 underpass design competition. 
About The NoMa Parks Foundation
The NoMa Parks Foundation was formed in 2012 to establish welcoming, sustainable, beautiful spaces where people can play, refresh and connect in NoMa, now and for generations to come. 
The rapid transformation of NoMa into a true mixed-use, urban neighborhood has highlighted the importance of creating great parks and public spaces. More than 36,000 people live within 4/5 of a mile of First and M Streets, NE, and the population is projected to double in the next 10 years. However, publicly accessible parks, playgrounds, and plazas in the area are severely limited. Parks are urgently needed to serve the neighborhood's residents, office workers, and visitors, while undeveloped land is becoming more scarce each year as development occurs on the remaining empty lots. The creation of refreshing, inviting parks and public spaces — before it is too late — will improve the lives of people in NoMa today and in the future. More about the NoMa Parks Foundation and its current activities and initiatives can be found at nomaparks.org.  You can sign up for the NoMa Parks Foundation newsletter as well. Follow us on Twitter @NoMaParksDC and like us on Facebook.  
About NoMa
NoMa is a vibrant, growing mixed-use neighborhood nestled among Union Station, the U.S. Capitol, Shaw, and the H Street, NE corridor in Washington, D.C. Already, NoMa contains more than 17.6 million SF of office, hotel, retail and residential space. With 22 LEED certified buildings, including 17 platinum and gold, NoMa offers the best work environments in the city. Each day, more than 92,000 people are out and about in the commercial core of NoMa. NoMa is home to 4,803 new apartments, and 44,000 people work here each day. NoMa is the most connected neighborhood in Washington, D.C., with unparalleled transportation access on Amtrak, VRE, MARC, two Red Line Metro stops, and easy vehicular access to Interstate 395 and Route 50. NoMa has a WalkScore of 92 and offers stellar biking opportunities, including the 8-mile Metropolitan Branch Trail. The NoMa BID organizes more than 50 free, award-winning community events each year, connecting more than 20,000 friends and neighbors. For more information about NoMa, visit www.nomabid.org and sign up for our bimonthly newsletter. Follow us on Twitter @NoMaBID and like us on Facebook.
###
For immediate release
News media contact:
Rachel Davis
202-997-3846
[email protected]