Lessons Learned
"The NoMa parks project represents a model for successful public-private partnerships." —Jonathan Kayne, Director, Special Projects and Finance, Office of the Deputy Mayor for Planning and Economic Development
The structure and approach of the NoMa Parks Project allowed it to achieve successful outcomes that would likely have been impossible if pursued through traditional methods. Imagine NoMa Parks carefully outlines the most important lessons learned at pages 50-53 and is intended for practitioners who may be considering similar efforts in their communities. As its author Andrew Trueblood, concludes:
"The overall success of the NoMa Parks Foundation was not inevitable, and it was not easy. It took intentional efforts to build broad partnerships, combined with expert planning and implementations. It leveraged the best aspects of public and private sector strengths to deliver what it committed to in less than a decade and within the budget, despite the significant disruption of a global pandemic. It serves as both a model for other communities and as a legacy for the NoMa neighborhood and its surrounding communities."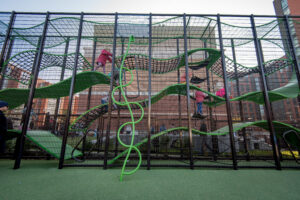 The NoMa Parks Project relied heavily on the advantages of the private sector and took advantage of the public sector's willingness to provide significant funding. One way in which the project stands apart from other major public-private efforts around public spaces was that it was first and foremost a neighborhood-focused and community-driven effort. 
Here are the key elements identified as critical to the success of the NoMa parks project.
CLARITY OF VISION AND ALIGNMENT OF GOALS
NPF had a singular, clear mission and was able to sustain focus on, and alignment around, a long-term vision.
T

he 

NoMa Public Realm Design Plan

, was a flexible, programmatic document that served continuously as a touchstone to guide the entire NoMa Parks project.

 
Partner engagement was not just about gaining project approvals, but also about developing long-term project ownership.

  

Developing parks and public spaces that were consistent with community and stakeholder objectives meaningfully magnified the resources committed to the NoMa Parks project.

NPF worked to ensure that maintenance of these new spaces was within the capacity of project partners, including public agencies, non-profit partners and the NoMa BID. 
A FOCUS ON BUILDING AND SUSTAINING COMMUNITY
NPF was a neighborhood-serving organization and an authentic community partner committed to developing strong and long-term relationships with key stakeholders and residents.
NPF was able to employ best practices in community engagement and deliver world-class design.

NPF had the flexibility, financial wherewithal, expertise, and neighborhood support to ensure that each of its parks and public spaces would be unique, of the highest quality, and tailored to its users.

The awards received for parks developed by NPF testify to this.
NPF committed to transparency and to documenting its work for stakeholders and others.

 Throughout the process, the Foundation found ways of making certain that residents and stakeholders were aware of the projects and of opportunities to engage.

NPF built parks that connect and bridge to neighboring communities.

  By not defining the community strictly in terms of the legal boundaries of the NoMa BID, NPF was able to elicit broad buy-in for the parks across neighborhoods and even across city wards.
Through this website, the Imagine NoMa Parks report, and the Document Repository hosted here, NPF is endeavoring to ensure that the community has the information needed to continue to care for these parks for generations.
SPEED, EXPERTISE, AND FLEXIBILITY
NPF's close relationship with the NoMa BID enabled it to leverage NoMa BID's organizational infrastructure for logistical and office support and lessons learned on tactical urbanism. Moreover, it could access the deep well of knowledge about the community and its relationships with developers, community leaders, and public officials.
NPF had the ability to move at the speed of the market when a site was available for acquisition.

 

NPF was able to effectively deploy the expertise of its supporters and board members.

 NPF's ability to lean on its relationships with savvy professionals helped the organization to assess project and organizational risk, critique project plans and budgets, and develop creative solutions to challenges. The board members provided a critical level of pro bono expertise that enabled the Foundation to move projects forward with confidence.

NPF's public funding and the structure of its relationship with the D.C. government allowed for both essential flexibility and speed. The NoMa Parks Authorization Act set out broad funding requirements in alignment with the 

NoMa Public Realm Design Plan

. The details were then filled in through the NoMa Parks Grant Agreement, which clearly outlined the requirements for public funding. 
Success bred more success. As NPF quickly developed a reputation for successfully addressing difficult challenges and completing complex projects, public agencies, community stakeholders, and private partners all became even more willing to work in partnership with the organization.