Swampoodle Terrace
We've all heard "good things come in small packages". Well, Swampoodle Terrace proves it!  This delight-filled, small park at the corner of 3rd and L streets NE, is beautiful and inviting.  It is chockablock with trees and plants, as well as useful and restful spaces for NoMa neighbors.
In September of 2020, the NoMa Parks Foundation (NPF) acquired 1100 Third Street NE, at the northwest corner of Third and L streets NE. The vacant property, which consists of 5,800 square feet of land will be combined with adjacent DC-owned public space to create an 8,400 square-foot park in this sun-graced spot. It is located directly north of the well-loved Swampoodle Park (8,200 square feet) on the southwest corner of 3rd and L streets NE.
The land was acquired in 2020 after five years of pursuit and longing for a bookend to Swampoodle Park.  It was the fourth successful land acquisition in the joint effort of NoMa Parks and the DC Government. The park was designed by Lee and Associates and constructed by Forrester Construction. Support and guidance throughout the process were provided by the DC Departments of Parks and Recreation, General Services, and Transportation, ANC6C – especially through the Environment, Parks, and Events, and Transportation and Public Space committees, as well as by NoMa residents. NPF and NoMa BID are grateful for the engagement and commitment of our many partners over the last eight years.
Together the two spaces, Swampoodle Park and Swampoodle Terrace, will fill many of the aspirations that the NoMa community expressed during stakeholder meetings leading up to the creation of the 2012 NoMa Public Realm Design Plan. That Plan was the framework document for the grant provided by the City to NoMa Parks and the guide for the activities undertaken by the NoMa Parks Foundation.
Swampoodle Terrace includes important new community gathering spaces, serving capability for events and storage for park equipment in a specially designed shipping container, flexible play and performance space, plenty of seating, chess tables, a shade pergola, and beautiful plantings-including a community herb garden. Changes to adjacent public spaces are comprised of a lovely, terraced entry, curb bulb-outs for traffic-calming, new bike racks, and two micro-mobility corrals. When seen and used together with Swampoodle Park, its award-winning sister park directly across the street, the parks address a wider range of play needs -for both kids and dogs – and even more seating options.
The name "Swampoodle Terrace" was chosen in a community nomination and voting process that garnered more than 900 participants in a two-round process.  The community's choice of Swampoodle Terrace was introduced by Councilmember Charles Allen for formal approval by the DC Council and Mayor Bowser. The ribbon-cutting for Swampoodle Terrace is scheduled for October 19th at 5 p.m.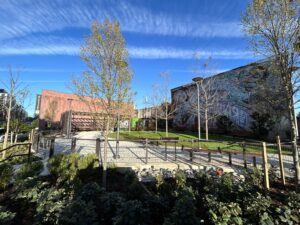 3rd Street Side
Seating Area, Shaded Pergola, and Shipping Container