Corridors and Pocket Parks
The Park Idea
This project, first identified in the NoMa Public Realm Design Plan, studied every street and sidewalk in the NoMa neighborhood to: (1) prioritize streets that can benefit from treatment as linear parks, (2) develop guidelines for the development of these streetscapes as linear parks, and (3) identify places to create "pocket parks" to sit, meet friends, and enjoy the day. Additionally, the NoMa Parks Foundation is working with the NoMa BID and DDOT on improvements to the largest linear park in the neighborhood, the Metropolitan Branch Trail.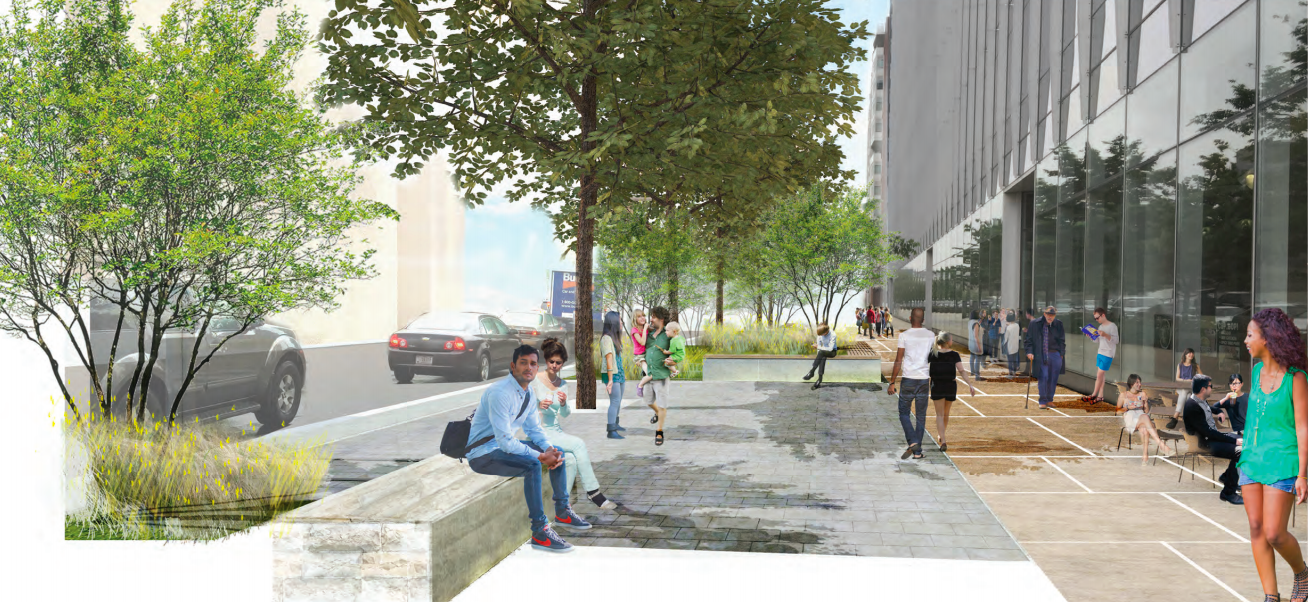 Streetscape Guidelines
Streetscape conditions are an important component of the public realm. Guidelines released in 2017 represent an important tool for public and private projects to help transform NoMa's streets into linear park spaces and public gathering spaces.
A joint effort with our partners at the District Department of Transportation, the Office of Planning, the Department of Energy and Environment, ANC 6C, and the NoMa BID for more than two years, these guidelines were developed to accomplish four key goals: (1) encourage growth of a large, healthy tree canopy; (2) enliven street activity by creating streets that support active use by workers, residents, and visitors; (3) provide accessible and easily walkable pedestrian paths; and (4) promote sustainable practices. The guidelines also recommend materials, public furnishings and specific tree varieties to beautify the neighborhood and establish a harmonious aesthetic.
View the full guidelines package. View the four-page summary.
Burnham Benches
One of the recommendations from the NoMa Streetscape Guidelines was to install additional seating throughout the neighborhood. Modeled off the stone wall extending from Union Station north to M Street NE (called the Burnham Wall), new "signature" benches were designed for the neighborhood. 16 new benches were installed in 2021 and the more benches using the same design could be added in other NoMa locations in the future.