Looking to the Future
While NPF has successfully delivered the capital projects under its primary control, there are still a few opportunities related to NoMa's public realm that will require continued energy and engagement. Ensuring that the significant investments in these parks continue to deliver value for the community will require ongoing investment and engagement from stakeholders and the community. 
Possible Future Projects
The Meander
While some components of The Meander are built, there are still future developments between Pierce Street and New York Avenue NE that can make this unique feature of NoMa even more vibrant and a magnet for neighbors and visitors.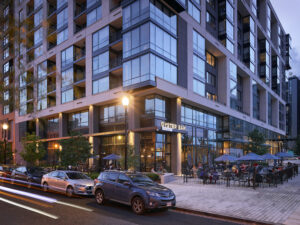 Central Plaza
The concept of a central NoMa park was pivoted away from for practical and financial reasons, but it is not out of the realm of possibility since development has not yet occurred in the block defined by L Street, M Street, and First Streets NE. There could still be a central public square if there were interest and funding.
There is also the opportunity for public civic space along L Street NE between First Street NE and the railroad track. The NoMa CNTR development created a large setback that, if matched with a large setback on the north side, could create a set of gathering spaces. Paired with temporary or ongoing closures of L Street, it could become a large civic plaza and place for farmers markets and events. The concept below would extend the architectural lighting in Lightweave and provide an area that is roughly 300 feet long by 90 to 110 feet wide.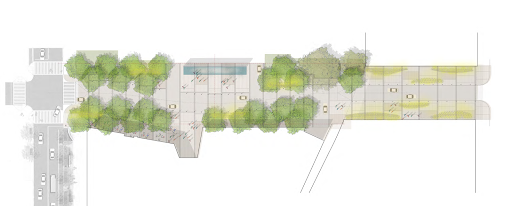 MBT Ramp at L Street NE
Alethia Tanner Park addressed several of the Metropolitan Branch Trail Safety and Access Study recommendations, but there are still others that could still be implemented to make the MBT's contribution to NoMa's public realm even more substantial. This includes a potential accessible terminus to L Street NE. The trail is a critical and symbolic element of NoMa's public realm. Yet the start of the raised section in NoMa requires cyclists and pedestrians to make an awkward turn from the M Street bike lane or underpass across the sidewalk, and then up a challenging switchback. The L Street access point is a substandard wooden staircase that requires ongoing maintenance by DDOT. Conceptual drawings prepared for DDOT re-envision the entrance by creating a ramp that would vastly improve access as well as the vitality of L Street.