Swampoodle Park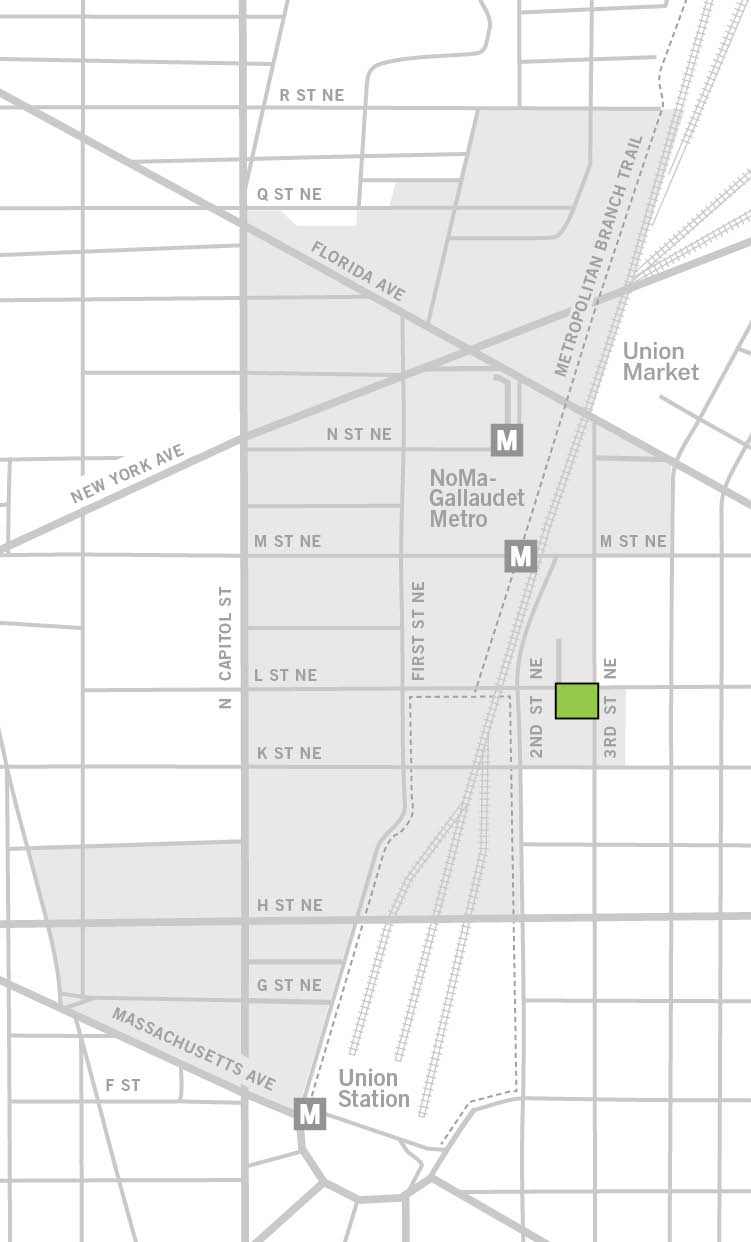 LOCATION:
325 L Street NE, the southwest corner of 3rd Street and L Street NE
ACQUIRED:
October 2015
GROUNDBREAKING:
August 2017
OPENING:
November 2018
DESIGNER:
Lee & Associates
AWARDS (as of December 2022):
Society of American Registered Architects (SARA) National; SARA Regional; Potomac ASLA Merit; Runner-Up, Washington City Paper Best of D.C. 2022 — Best Dog Park
SIZE:
private land: 5,295 SF with adjacent public space; total park: 8,200 SF
MAJOR FUNCTIONS:
children's playground, dog park, public seating
SITE ACQUISITION
Swampoodle Park is the first park that NPF delivered to the neighborhood. While the park's siting was not part of a master plan and was based on an opportunistic sale, it has turned out to be one of NoMa's greatest success stories.
In 2015, an affiliate of Cohen Siegel Investors advised the Foundation that their 5,295 SF parcel at the southwest corner of 3rd and L Streets NE was available for purchase, and NPF moved quickly to consider the site. It determined that the site was consistent with the NoMa Public Realm Design Plan's goal of having a variety of park spaces throughout the neighborhood, including the southeast area of NoMa. Critically, NPF determined that the site could be combined with adjacent "public parking" open space, which was possible only because the District would be the ultimate owner of the site. Because of this, the acquisition could yield an 8,200 SF park.
A significant hurdle to acquiring the site was the owner's interest in closing within 30 days, an ambitious timeline. In order to incentivize a fast closing, the owner offered to discount the property from its April 2015 appraised value of $3,735,000 to a sale price of $3,200,000. NPF had not yet executed an acquisition transaction, but after consulting with DGS, believed it would be possible to address the owner's interest in an expedited closing on this property.
Already, most critical documents were available, including current environmental assessment, appraisal, survey, and title report. Additionally, because of the public-private structure, the Foundation would not need to obtain private financing, like most other potential buyers. The District understood NPF's need to be opportunistic and to move quickly and facilitated the transaction with alacrity, and it closed in October 2015.
SITE DESIGN AND COMMUNITY ENGAGEMENT
Having acquired the site, in early 2016 the Foundation began a significant community engagement process for the park's design. NPF launched a website, ImagineNoMaParks.org, to serve as a facilitator of community engagement and feedback. The site allowed the community to engage in polls, answer open-ended questions, share photos, and receive updates on the design process, and it enabled NPF to share and solicit information from residents throughout the design processes of various park sites.
For this park, three functional priorities stood out based on NPF's community outreach: dogs, children, and seating for relaxation. D.C.-based landscape architecture firm Lee & Associates, a D.C. Certified Business Entity, developed concept designs based on these priorities and presented them to community members in the first of NoMa's Community Conversations.
One of the most notable components of the final park design was the inclusion of a remarkable vertical play structure, called a Wallholla, that takes advantage of height to create more play space than would normally be possible in a confined space. The space also includes a dog park with an agility structure and gathering spaces for the community. For landscaping and infrastructure, the design included planting beds, a bioretention structure, specialty lighting, irrigation and water stations, and custom fencing with two electronic dog-entry gates. Overall, through innovative design and a thoughtful combination with adjacent public space, NPF created a park that was far more impactful than the 5,295 SF of purchased land.
NAMING AND CONSTRUCTION
After the design was complete, NPF solicited ideas for park names. Through another community-engagement process, the public was invited to submit ideas, with the three best and most common options then put to a public vote. More than 1,500 votes were cast for a name in a three-week online poll, with 67% of respondents selecting "Swampoodle Park" over "Old City Corner" and "3rd and L Park." "Swampoodle" is a reference to the vanished 19th century Irish neighborhood that sat just to the west and south of the park site, and which was erased by the construction of Union Station and the tracks behind it. Ward 6 Councilmember Charles Allen introduced legislation to name the park, and the D.C. Council voted in April 2018 to officially adopt the name Swampoodle Park for the property.
The Foundation selected Blue Skye Construction, a D.C.- based general contractor and Certified Business Entity, to build the park. Initial plans were for the park to open in 2017, but setbacks and construction challenges delayed this, and Swampoodle Park officially opened to the public, and its many dogs, on November 17, 2018.
Since then, Swampoodle Park has become the beating heart of southeast NoMa for its many residents and their dogs. People of all ages have found a community at the corner of 3rd and L Street NE and have developed a strong sense of civic pride because of Swampoodle Park. Despite its small footprint, the park has helped establish an enduring identity for the neighborhood. The Wallholla and the dog park have had especially significant impacts in helping to lay the foundation for the residential community in NoMa.