News Archive
October 07, 2015
NoMa was recently ranked one of the top neighborhoods for biking in the District. Did you know that NoMa offers 4 public air pumps, two FIXIT stations, and 8 Capital Bikeshare stations? In addition, a protected cycle track runs along First Street, NE, which links to the 8-mile Metropolitan Branch Trail (MBT), enabling cyclists to get from Silver Spring, to Brookland, the U.S. Capitol, and everywhere in between.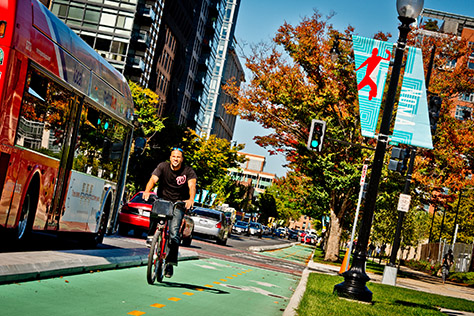 As uber friendly as NoMa already is to cyclists, we can always do better. Through promoting implementation of the recommendations contained in the MBT study described above, we will continue to work to improve connectivity, enhance infrastructure, and continue to bolster the neighborhood's bike-ability.
October 07, 2015
Stacie West is the Director of Parks Projects. Before joining the NoMa Parks Foundation, Stacie was a community planner and a Capital City Fellow with the D.C. Department of Parks and Recreation. She led development of the comprehensive Play DC Parks and Recreation Master Plan and orchestrated an improvement initiative to renovate all city-owned playgrounds. Stacie managed over a dozen capital projects and was involved in all aspects of the projects, including design charrettes and construction management. She also previously worked for the District Department of the Environment creating a public outreach strategy for the 20-year Sustainable DC plan. At the Rails-to-Trails Conservancy, Stacie focused on community impacts related to cycling, pedestrian and transportation projects.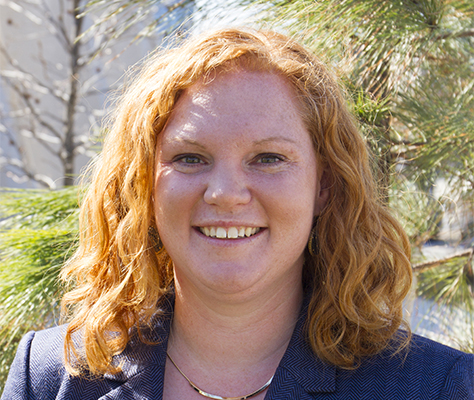 Stacie is a longtime Washingtonian (of sorts). Her entire family – on both sides – has deep roots in Washington state. Her father was in the Army, so growing up she moved around quite a bit. She went to three different high schools, and lived everywhere from Alaska to Germany. Her childhood fostered two important characteristics. First, she has a phenomenal sense of direction. "I'm rarely lost," said Stacie. "Having moved around my whole life, I get my bearings really quickly." Second, she developed a passion of and appreciation for great parks and public spaces. "Moving around so much, I got to experience a ton of different, amazing parks," said Stacie. " Parks were a way for me to orient, connect, and familiarize myself with a new place." Her favorite park is Bryant Park in New York City, because "you can have different experiences in the same place, and at once it feels both intimate and like you're really part of a community."
Stacie has a Masters of Community Planning from the University of Maryland, College Park. She lives on Capitol Hill and enjoys making pottery, hiking, and exploring wonderful parks. She often walks to work. Say hello on twitter @NoMaParksDC.
October 07, 2015
Acquisitions
The NoMa Parks Foundation is working on acquisitions and hopes to be able to share some important news very soon. Acquiring land for parks to meet community needs is our highest priority at this time. These community needs are are outlined in the NoMa Public Realm Design Plan. We are also aware of a recent petition for a dog park in the neighborhood and we continue to work to find a suitable site or sites. Stay tuned!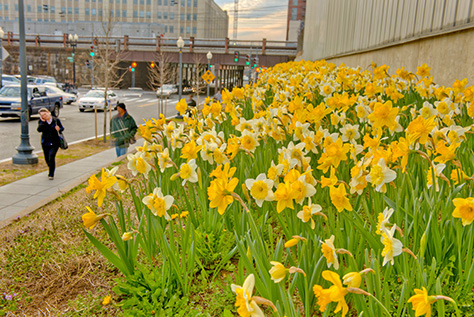 Planning
In addition to acquisitions, we continue our work on planning for the L Street Plaza, the NoMa Meander and other public spaces in the neighborhood. We are pleased to report that it appears the NoMa Meander may ultimately be comprised of 4 blocks as originally hoped. The Meander will be a retail pedestrian promenade running from Pierce Street to New York Avenue. Construction of the first section will begin this year when JBG breaks ground on its next phase of the N Street NoMa development.
In addition to planning initiatives undertaken by the Foundation, the NoMa BID led a recently completed study on ways to improve the user experience on the Metropolitan Branch Trail. The study, undertaken in partnership with the Metropolitan Police Department, District Department of Transportation, Union Market developers and a wide range of other stakeholders will, once fully implemented, have a big impact on NoMa. Certain safety improvements recommended in the study have already been implemented. Additionally, developers and the District Office of Planning are using this study to help guide proffers provided by developers in connection with re-zonings for new projects in the area.
Construction
Speedy progress on the M and L Street Underpass Art Parks projects continues. Both the M Street installation, "Rain" and the installation planned for the L Street underpass, "Lightweave" recently went before the U.S. Commission of Fine Arts for review. Both projects were warmly received and approved by the Commission. This fall, we look forward to inviting everyone to see and interact with the prototype of the M Street underpass design. The prototype will be a full-size mock-up of one section of the full installation.
The international design competition for these projects was one of the Parks Foundation's first efforts aided by the fact that we did not need to acquire land or coordinate with other developments to advance these projects.
Public Engagement
The Parks Foundation will host the second Community Conversation on Thursday, November 19 (location to be announced soon!).
July 01, 2015
July 1: Watch Grease at NoMa Summer Screen Wednesday
Grab your dancing shoes – Grease hits the screen at NoMa Summer Screen Wednesday, July 1. The fun starts at 7 PM, and film starts at sunset. DJs, giveaways, as well as the usual food trucks, picnicking, and more start when the doors open. All movies are screened with subtitles.
Bluejacket Brewery will also be on site selling their fantastic summer brews!
This year's danciest film series under the stars is hosted at NoMa Junction @ Storey Park, a future development site at 1005 First Street, NE, that has been transformed for 2015 into NoMa's best temporary park yet. The new site is asphalt, so we highly recommend you bring low beach chairs or cushions. View the full schedule.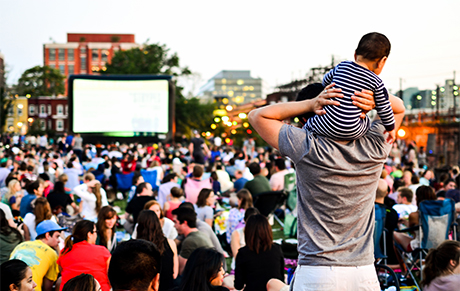 July 4: NoMa's July 4th Bash
Need plans for July 4th? Come enjoy live music, moon bounces, games, face painting, and more at NoMa's July Fourth Bash! This free public event will be held at NoMa Junction @ Storey Park (1005 First Street, NE) from 4-7 PM. Celebrate the Fourth of July with friends, family, and neighbors. Free hamburgers, hot dogs and watermelon will be provided for the first 200 people, courtesy of Harris Teeter. Coolers, picnics, chairs, blankets, and dogs are all welcome.
July 7: Family Film Night: Happy Feet 2
The fifth annual Family Film Night returns July 7 with a screening of Happy Feet 2 (PG, 2011)! Families and children are invited to watch free, kid-centric films on the following Tuesdays this summer:
July 7: Happy Feet 2 (2011, PG)
July 21: Rio 2 (2014, G)
August 4: The Princess and the Frog (2009, PG)
Free food and beverages will be provided for the first 100 people, courtesy of sponsor Harris Teeter at 7 PM.  Family Film Night at Sursum Corda will take place in the plaza at L and First Streets, NW. Please note that this is at a different location than NoMa Summer Screen. The event starts at 7 PM with fun activities and free food, and films start at sunset.
July 8: NoMa Junction @ Storey Park Mural Unveiling
Join NoMa BID and Words, Beats & Life for the opening celebration of the completed murals at NoMa Junction @ Storey Park. Meet the 55 artists who transformed what was once a parking lot into the largest piece of public art in Washington, DC. There will be free food, music by DJ RBI and a breakdancing performance by the Words, Beats & Life b-boys and b-girls from 6-7:30 PM. After the unveiling, stick around for NoMa Summer Screen.
July 01, 2015
The NoMa Parks Foundation has selected the design concept for L Street, the second underpass to be transformed with light and art in the NoMa neighborhood. Future Cities Lab will create an undulating light structure, "Lightweave," that will appear to float from the ceiling of the underpass. The installation will "peek out" onto L Street outside the underpass and beckon visitors to explore and enjoy the beautiful, transformed space. M.C. Dean will serve as contractor, with construction expected to begin in early 2016.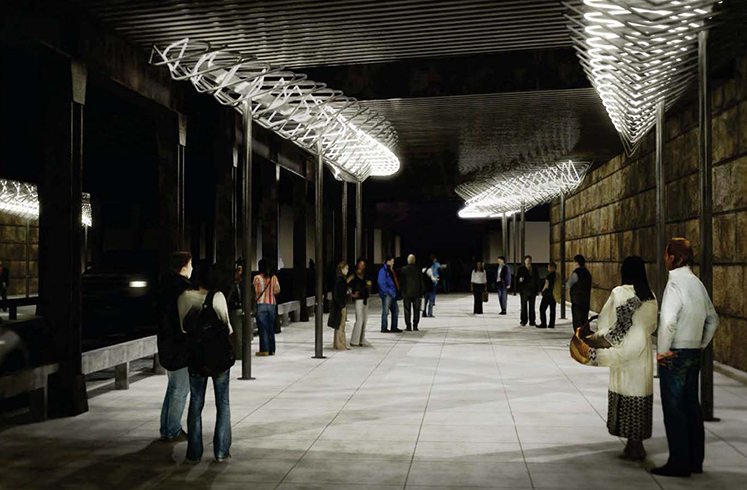 The NoMa Parks Foundation is committed to improving the lighting and overall user experience in all of NoMa's underpasses. To that end, the Foundation has engaged Michael Vergason Landscape Architects to provide designs for "street furniture" and other ground-plane improvements.
"We very much look forward to your participation and input on this important public project," said Robin-Eve Jasper, President of the NoMa Parks Foundation. "The NoMa Parks Foundation is extremely grateful for the high level of community participation in all of the parks projects advancing at this time. We thank the hundreds of people who have attended community meetings and submitted survey responses over the last several months."
Community members are invited to meet the designers and construction team, learn more about the conceptual design and share their thoughts at the community meeting on Monday, July 13, from 6:30 to 8 PM in the Lobby Project, 1200 First Street, NE. This event is free and open to the public; RSVP here. For more information on the design and construction team, please click here.
The Foundation started the underpass project in April 2014, with an international design competition that received 248 responses. The goal of the project is to fill NoMa's four rail underpasses, at L, M, K Streets and Florida Avenue with light and art, making them enjoyable east-west connections for pedestrians, cyclists and drivers.